Last week I drew the very first presidential debate between Donald Trump and Hillary Clinton for ABC News. A black car picked me up and we whisked away driving into Manhattan to their headquarters. I was very nervous and excited about drawing live the debate and capturing the main highlights of the event. Everything went off as a huge success!
The only time when I was off the air was when I began to draw President Bill Clinton hitting on Melania Trump. I know! I know! However as a cartoonist I'm supposed to be a bit edgy and push the envelope. I quickly corrected my error and continued doing my job drawing Trump and Clinton. What I found really amusing though is when Saturday Night Live did a family feud sketch of President Bill Clinton hitting on Ivanka Trump six days later! So I was on to something. 🙂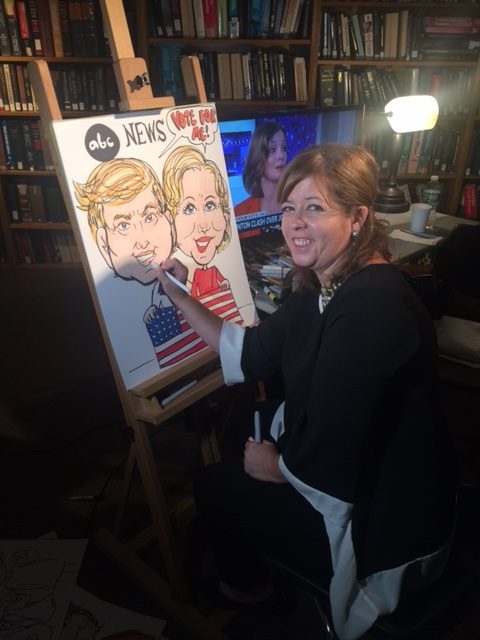 Anyways I loved the experience and the highlight was taking the escalators down with journalist George Stephanopolis who was intrigued by the number of times Trump was sniffling. Did you count?
So tonight is the Vice Presidential Debate between Mike Pence and Tim Kaine.  I'm honored to be drawing LIVE for ABC News again. Make sure you watch this evening at www.abcnews.com/live from 8:30pm to 11:00pm. Otherwise, you can join me at Pacific Station in Brooklyn located at 82 4th Avenue near Barclays Center! Come get drawn before the debate!
Will you be watching?