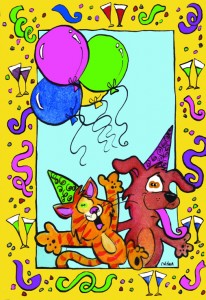 When I was living in London a few years back, I was creating some illustrations for a storytelling show but didn't want to inhale the alcohol fumes from markers.  I went to an art store and discovered these non-alcohol dual brush-tip and fine tip markers with brilliant colors called TOMBOW.  I bought a pack, took them home and tried them out. WOW! I fell in love instantly with these markers ever since.  I love the color palette, the flow of the ink, and the choices of two different widths.
TOMBOW was first founded in Toyoko, Japan by a pencil manufacturer named Harunosuke Ogawa. Little did he know that 100 years later, this company  would have a huge portfolio of fantastic products besides pencils and markers!
What's exciting is that TOMBOW will be celebrating "100 days of TOMBOW"  starting TODAY at the National Art Education Association Conference in Fort Worth, Texas.
TOMBOW will be providing up to $10,000 worth of art products to the Council of Arts Education which is a national nonprofit dedicated to promoting and supporting art education and quality art programs nationwide.
I am honored to be one of the 100 bloggers which will be showcasing my "Tombow Time" using their products for which I use for my caricature and illustration work! I can't wait to show you during these next 100 days how great these TOMBOW products are. Please visit http://www.tombowusa.com for more information.