As a content creator it's important to keep up to date with the latest stuff going on in the world of fashion, food, current events, social media marketing and so much more. So, trusting my intuition I decided at the last minute to attend this year's SheKnows Media BlogHer Content Creator Event. WOW. Am I ever so glad I did! First of all, it was such a fun commute from my home – I was able to take the NewYorkWaterWay ferry every day to the SouthStreet SeaPort venue located by the Wall Street Pier. If you are ever visiting New York City, I highly recommend that you take one of these ferry rides to get some amazing views of the East River and the famous New York skyline. Second, the event was very generous with the food to keep us fueled with energy to network and schmooze! Sponsored by PretAManger we were able to eat amazing croissants, salads and sandwiches, cookies and my favorite of all time – unlimited cold brew coffee all day! Third, the topics and content that was talked about was really informative and helpful. I learned so much. So, here are just a few of my takeaways from BlogHer18:
All of these amazing entrepreneurs and women started their business based on a PROBLEM that they encountered in their life. They discovered and created a SOLUTION and then found the right target market to SHARE THEIR STORY as a method to SELL their solution, product or service. For example, Jessica Alba founded The Honest Company based on her issue with using a baby product with her first daughter Harper. She received a horrible rash and couldn't find any chemical free products in the marketplace. So? She decided to create baby friendly chemical free products on her own!  She did what she had to get done with patience and humility. For more information about her story click HERE.
Your business is not about serving YOU. It is really about SERVING OTHERS. HOW can you help your friends out or that ideal client of yours? For example, actress Tiffani Thiessen (yes, from my college days a million years ago I used to love watching her on the original Beverly Hills 90210!) noticed that a lot of her friends had no clue how to cook. So with her expertise and love for cooking, she began to cook for her friends. Then teach them how to cook. Alas, now she has her own cooking show called "Dinner at Tiffani's" on the Cooking Channel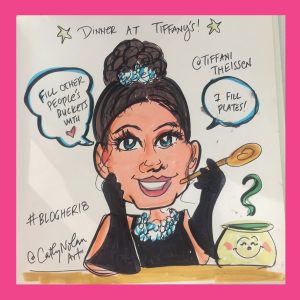 3.  Always ASK. You never know if someone will say "YES!" A great example of this is when SheKnows Media CEO  Samantha Skey told all of us attendees how she had recently met
Amy Schumer at an event. Somehow she got her email and contact information (how cool is that?) and decided to simply ASK if Ms. Schumer would be willing to attend her event
as a surprise guest. Of course, Ms. Skey did not assume a response due to the comedienne's hectic schedule but sure enough, she said YES! Now… how Ms. Skey convinced Ms.
Schumer to say YES to her might be due to the following: 1. The theme and cause of the event (women's empowerment) 2. Her reputation and vibe (meeting her and hitting it off)
3. Getting cool swag (ha! just kidding although the swag was really awesome) 4. Great publicity opportunity (both parties win) and 5. Maybe she was offered compensation or not.
However it does not matter. The point is – Always ASK because you just never know when someone will say YES. Plus, HOW you ASK really does matter as well. Follow up nicely!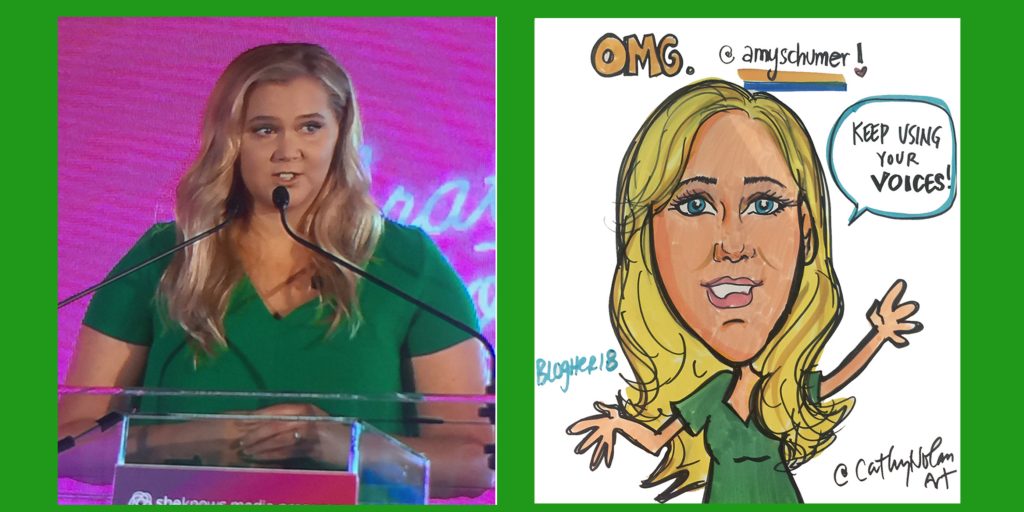 4. BE BRAVE. Build yourself first before you build your business.  The other guest whom I was really impressed with was actress Gabrielle Union. WOW. This strong young lady
shared her story about being raped on the studio set at the workplace. She not only had to overcome such a violation but also openly shared her struggles with her infertility (a taboo            topic that most women including myself have struggled with). Ms. Union's story was not only empowering to hear but she emphasized to us all about the importance to really take care
of ourselves FIRST and then others. Everyone struggles with pain and it's tough to be bold and brave. Ms. Union bravely reminded us all that we truly are really not alone. We
are all one! Address your own hurts first beforehand so that you can heal and make a true difference in this crazy world we live in.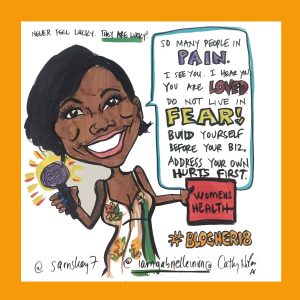 5. My last takeaway (well there are a lot more but click HERE if you want to hear more!) was in order to grow your business, it really is about collaborating and building relationships with
one another. The lone wolf dies while a wolf pack survives! Always have a conversation with your audience and have fun with the conversation as well! Don't be afraid to ask questions or
ask for feedback from your tribe. I found this great image at the event and it's so true! YOUR VIBE ATTRACTS YOUR TRIBE! The best way to build a tribe? Talk to people in your
industry, reach out to them, offer a coffee chat or lunch and just connect with others. Find out how you can help and serve them! Thanks for reading and if you enjoyed this please stop
by and "like" my FaceBook page CathyNolanArt and follow me on Instagram too! Enjoy your day and keep plugging away at your dreams! Credit to @giannedoherty on image below